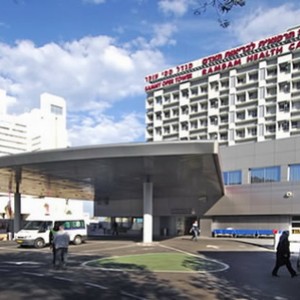 In the city of Haifa in northern Israel, is a medical center "Rambam", founded by the British in 1938. It was originally known as the British Government Hospital of Haifa. After the establishment of the State of Israel in 1948, the hospital was renamed Rambam in 1952, the acronym for Rabbi Mosheh Ben Maimon (Maimonides). "Rambam" medical center is the most prominent medical institution in the northern region of Israel.
The hospital campus "Rambam" includes a children's hospital,"Meyer", that is a diversified medical center that provides medical services in all areas of pediatrics.
The medical center "Rambam" includes 36 inpatient departments, 1000 beds, 45 medical and diagnostic divisions, 9 specialized centers, six laboratories and 30 economic and administrative units. The staff of the hospital are 715 doctors, 1,407 nurses and other service personnel.
In Rambam medical center there are about 75,000 hospitalizations and 500,000 outpatient visits per a year . About 22,000 operations are carried out in the hospital during a year, and about 4,000 newborns are born in the maternity department.
Academic and scientific research activities has been widely developed in the "Rambam" Medical Center. The hospital closely cooperates with the School of Medicine named after Bruce Rappoport at the Technion. In close proximity to the medical center is located School of Medicine, collaborating with each other they create the basis for clinical diagnosis, treatment and medical research.
The medical center "Rambam" from the first days of its existence, has won the reputation of the medical institution, which is always (in peacetime, in emergency situations , during the war) ready to provide the necessary medical care. For this purpose on the territory of the Medical Center is a helicopter landing pad, which allows to deliver an emergency patient to treatment in minimal time.
The medical center "Rambam" has the following departments: orthopedics, cardiology, gastroenterology, nephrology, dermatology, IVF, general surgery, cardiac surgery, plastic surgery, urology, ophthalmology and many others.
The medical center "Rambam" is the main medical institution for the Northern Military District of IDF (Israel Defense Forces).
The center is accredited hospital by the US Navy and the armed forces of the United Nations in Israel it is also a major medical institution for the Northern Military District of IDF.